Happy New Year - Review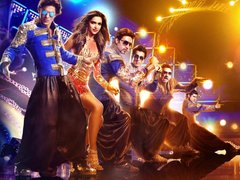 Shah Rukh Khan, Deepika Padukone, Abhishek Bachchan, Sonu Sood, Boman Irani, Vivaan Shah
Dir: Farah Khan
quick review
:
Happy New Year is a little more than what you'd expect. A tiny surprise that gives you more of the same, but with some structure - even if it tries do a lot in one go and all of it is predictable.
Reviews
24055 views
Click on the tabs below for wogma review, external reviews, user reviews, and twitter verdict
Wogma Review
Happy New Year is a "buy one get two free" film. You were promised a heist, you get that and a revenge drama and underdog film for free. And imagine a Hindi film with three story films and none of them pressing too hard on the romantic angle. And here I was worried that Happy New Year wouldn't have a story a la Tees Maar Khan. But hey, I'd take that 3 predictable stories compared to none any day.
It isn't surprising then that the film is 10 seconds short of three hours. Indeed, I was dreading the movie even before it started just by a look at its runtime. One would have thought movies of this length aren't made any more. And yet, the movie didn't feel that long. Though I don't know who takes the credit for that. Was the movie really engaging or has my patience and general mental readiness for movies belonging to brand Khan improved by a mile and more? For better or worse, as the case may be, the movie slackens only rarely.
That didn't make the story any less predictable. Granted, the writers try hard to keep the suspense on, but given the genre of the film and the festive season you know where the film is headed even before you've seen the film.
Sure, for every self-referencing, lame joke there is a tiny twist that you wouldn't expect from a Farah Khan film. For every random reference to one film or another there is a tongue-in-cheek remark about pop culture and current trends winking at you. For every time the sole lady in the film is put down by the other characters there is a little detail that catches your attention.
Unfortunately, in each of the above cases, the annoying outweighs the surprising, leaving you in a state where you are good with the surprise but can't overcome the banality of the rest of the film. Happy New Year takes a shot at the "realness" of reality shows. It laughs at films of its own kind, as Farah Khan films usually do, but this time it wasn't wearing a "we are like that only" on its sleeve but had a more "something needs to be fixed" attitude. Hats off to Anurag Kashyap and Vishal Dadlani for their sporting spirit, as cheap and meh as their cameo came across as.
Who would've thought there'd be a film in which Anurag Kashyap overacts more than Shah Rukh Khan even if it is very intentionally so. In fact, all the actors, as expected again, overact. But, it's not the cringe inducing overact. It's the kind that tries to shove the fact that its all a performance down your throat. The kind which tries to make every moment dramatic and impactful. Yet, each of the characters gets that one scene where you see a glimpse of what the actor is really capable of.
Making it seem that it is powerful acting must be the easiest kind to do. Especially for the likes of Boman Irani and Abhishek Bachchan. Shah Rukh Khan comes across as even more narcissistic than usual (especially with the end credits). Sonu Sood is treated like a newbie who has gotten a chance to show off his six-pack, except that they cannot overdo Shah Rukh Khan's ten.
The manner in which Deepika Padukone's character Mohini is put down and treated is the shabbiest of them all. That she doesn't leave insult after insult, to me came across as one of the things that the movie was trying to be satirical about. I am not sure, if I am giving the film a little more credit than is due though. Even so, Deepika Padukone was the only one who really shone in the film. Trying to maintain dignity in the worst of circumstances. The same cannot be said about Abhishek Bachchan. I have now begun to feel bad for him as an actor - he has really reduced to levels where he is a side-flunkey and does whatever comes his way, though he is capable of a lot more. Yet, his comic timing, even with the worst of jokes get you cracking.
In that sense, you cannot help but giggle at a lot of what's going on in the film. At times, it feels like you are watching Tom and Jerry. At other times there are innuendos, you'd rather not have in the film - because they are in bad taste, repetitive, not new and not funny.
Even so, I am pleasantly surprised and happy that Happy New Year attempted story. Yes, most of it is expectedly lame and laughable. But, isn't it cool that Farah Khan thinks her audience to be worthy of it. As if nodding to the fact that the audiences tastes are changing, even if the nod is a weary one and the change is ever so slow. Thank you, lady, and I mean it sincerely. This trend, makes me hope that there will be one Diwali, not to far away, that will make me look forward to a Shah Rukh Khan starrer, directed by Farah Khan.
Come on Team Khans, you can do it!
- meeta, a part of the audience
Parental Guidance:
Violence: A few fist fights, one in a boxing ring.
Language: abusive words are alluded to
Nudity & Sexual content: Skimily clad women. A dance at a dance bar.
Concept: heist + revenge + underdog
General Look and Feel: Bright, colorful and cheerful
Happy New Year - Movie Details
Banner: Red Chillies Entertainment
Producer: Shah Rukh Khan, Gauri Khan
Director: Farah Khan
Lead Cast: Shah Rukh Khan, Deepika Padukone, Abhishek Bachchan, Sonu Sood, Boman Irani, Vivaan Shah
Supporting Cast: Jackie Shroff, Anurag Kashyap, Vishal Dadlani, Dino Morea, Kareena Kapoor Khan, Atishri Sarkar
Story: Farah Khan, Mayur Puri, Althea Delmas Kaushal
Dialogues: Mayur Puri
Cinematography: Farah Khan, Manush Nandan
Editor: Anand Subaya, Tushar Parekh
Background Score: John Stewart
Action Choreography: Suniel Rodrigues, Dave Judge
Choreography: Geeta Kapoor
Music Director: Vishal Dadlani, Shekhar Ravjiani
Lyrics: Irshad Kamil
Costume Designer: Manish Malhotra
Facebook Page: Link
Running time: 180 minutes
Reviewer: meeta
Language: Hindi
Country: India
Happy New Year - Trailer
If you cannot see a video above, click here to see it on YouTube