Queen - Review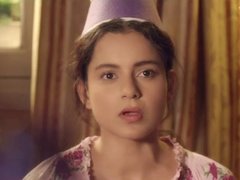 Dir: Vikas Bahl
quick review
:
The worst break-up ever makes for a warm, spirited film.
Reviews
22602 views
Click on the tabs below for wogma review, external reviews, user reviews, and twitter verdict
Wogma Review
You could call Queen a chick-flick, you could call it a coming-of-age film. You could even say it is an apt one to release on "Women's Day" weekend. Bracket it as you like it, but there cannot be enough films made like Queen.
And I don't say that because Queen sees its protagonist empower herself from a small-town woman who is put down by all around her to a woman who is willing to find herself. Neither is it because a human being comes into their own despite being down in the dumps, without losing their innocence.
Films like Queen should be made for the way the story is narrated.
You relate to the protagonist from the word go - and that comes from a person who hates use of voice-over to introduce a film. You are with Queen, a part of her thoughts. You jump with her from thought to thought. And the best bit - the voice-over stops there. It isn't overdone.
Kangna Ranaut's Rani or Queen is innocent and that simplicity engages you instantly. Her character builds and grows ever-so-slowly, yet, you are far from getting bored. In fact, one of those rare films that I didn't want to end.
Rani and Kangna weave together so seamlessly, that you cannot tell if you are falling in love with the actor or the character. And while she (both Rani and Kangna) could have carried the film alone on her fragile shoulders, she is lent great support by the supporting cast and the characters they play.
Films like Queen also show you that there are things beyond character and situations and overall plot. It's the details and the traps that you keep yourself from falling into. Tiny things make Queen, the film, even more charming - like how she doesn't let go of her handbag - no, not to the street thug as you see in the trailer - but in a club, while dancing.
Also, it was so easy to have let Queen get a makeover and transform herself into a confident, outgoing girl, especially given Kangna Ranaut's glamour quotient. But, they don't take that bait. The character transforms but within a believable boundary. This aspect is so refreshing when you compare it to almost every other hindi film in which characters transform into the exact opposite at the slightest instigation.
Given all the things that are right about Queen, the discussion would still be incomplete without a word about the music. Wow.
Both, the writing and the performances in movies like Highway and Queen swoon you with surprise. It takes me a long while to get over this lovely feeling of being swept of my feet, especially when least expected. Good thing I am in no rush to come back to ground.
- meeta, a part of the audience
Parental Guidance:
Violence: None.
Language: Clean.
Nudity & Sexual content: Pole dancing, a visit to a sex toy store, prostitution. No explicit scenes.
Concept: A small town girls discovers herself.
General Look and Feel: A warm, cozy albeit dull feel.
Queen - Movie Details
Producer: Anurag Kashyap, Vikramaditya Motwane
Director: Vikas Bahl
Lead Cast: Kangna Ranaut
Supporting Cast: Rajkummar Rao, Lisa Haydon, Mish Boyko, Jeffrey Chee Eng Ho, Marco Canadea, Guithob Joseph, Adri Doppenberg
Story: Vikas Bahl, Chaitally Parmar, Parveez Sheikh
Screenplay: Vikas Bahl, Chaitally Parmar, Parveez Sheikh
Dialogues: Anvita Dutt, Kangna Ranaut
Cinematography: Bobby Singh
Editor: Abhijeet Kokate, Anurag Kashyap
Choreography: Bosco Martis, Ceasar Gonsalves
Music Director: Amit Trivedi
Lyrics: Anvita Dutt
Costume Designer: Rushi Sharma, Manoshi Nath
Facebook Page: Link
Running time: 140 minutes
Reviewer: meeta
Language: Hindi
Country: India
Queen - Trailer
If you cannot see a video above, click here to see it on YouTube