Happy New Year - Preview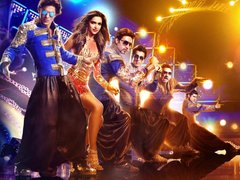 Shah Rukh Khan, Deepika Padukone, Abhishek Bachchan, Sonu Sood, Boman Irani, Vivaan Shah
Dir: Farah Khan
quick review
:
Happy New Year is a little more than what you'd expect. A tiny surprise that gives you more of the same, but with some structure - even if it tries do a lot in one go and all of it is predictable.
Reviews
24072 views
Click on the tabs below for wogma review, external reviews, user reviews, and twitter verdict
It's SRK O'clock on our calendar. In combination with it being Farah Khan's next outing. This is as masala as it gets. You see the trailer and you think Ocean's Eleven. Of course, only as far as the broad plot is concerned.
Unfortunately, little else stays. Especially, the cast. While Abhishek Bachchan is capable of some of the suave that the Ocean's Eleven crew carried, he seems to be reduced to something quite the opposite and Sonu Sood to comic relief - both as typical as they could get. The little we compare Julia Roberts to Deepika Padukone in this avatar, the better, even if the former played a relatively small role in the English film.
Add on the dance and the extravaganza and soon we lose sight of the basic plot. But then again, that just might be a good thing. At least, there is scope to look at the film with unbiased eyes.
Music Reviews:
Bollyspice - "1.5/5"
Bollywood Hungama - "3.5/5"
glamsham - "4/5"
Milliblog - "Less Vishal-Shekhar, lot more Farah Khan, this soundtrack."
Music Aloud - "6.5/10"