Total Siyapaa - Preview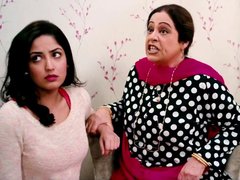 Dir: E Niwas
quick review
:
Almost all attempts at humor seem forced.
Reviews
17229 views
Click on the tabs below for wogma review, external reviews, user reviews, and twitter verdict
A Punjabi girl brings a Pakistani guy home as the one she wants to marry. Siyapaa indeed - that, I am told, means trouble, lots of it. There's lots of potential for serious melodrama or rib-tickling gags or nasty India-Pakistan one-liners. Total Siyapaa seems to aim for some regular rom-com stuff. Which brings up the question - why have the India-Pakistan angle at all then?
Now, here lies my hope once again, that I am pre-judging wrong. I hope there is something more to Total Siyapaa than just the regular romcom stuff. Fortunately, there is reason enough to have hope. This one is written by the writer/director of a movie I loved, A Wednesday. A completely different genre, which makes it even more intriguing.
It doesn't make the fact that Ali Zafar is jarring as an actor any more tolerable though. But, hopefully, Yami Gautam will engage as she did in Vicky Donor. Kirron Kher seems to be doing her usual loud, Punjabi thing. Only this time, she seems to have better lines.
These are then countered by crass jokes in the form of whatever it is Anupam Kher and the grandfather(?) (separately) are up to in the trailer.
With all of the fors and againsts and its average music, Total Siyapaa just might be an average flick that brings in a few laughs, nothing more, nothing less.
Music Reviews:
Bollyspice - "2.5/5"
Bollywood Hungama - "2.5/5"
Milliblog - "Ali offering a good demonstration of his multi-facetedness."
Music Aloud - "7/10"