Total Siyapaa - Review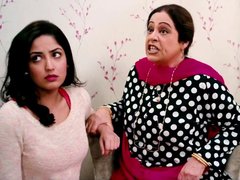 Dir: E Niwas
quick review
:
Almost all attempts at humor seem forced.
Reviews
17268 views
Click on the tabs below for wogma review, external reviews, user reviews, and twitter verdict
Wogma Review
Total Siyapaa reminded me of Hrishikesh Mukherjee films in many ways. A quirkily different situation in a regular family; the story of the film spans a short time - in this case just a day; all infused with humor. Unfortunately, the last bit doesn't work too well for Total Siyapaa. The attempt at humor is pretty mediocre and falls flat almost all along the way.
There are a couple of times that the lines are really funny and will get a huge laugh out of you. But, other than that, all you do is wonder what is happening and why? This could actually be true of any film with quirky characters and situations. The difference though is that in the ones that are well made, you don't wonder, you just let go and enjoy.
Total Siyapaa is something that you just sit through. In the right frame of mind, it won't seem bad enough that you are enduring it. But, it does have immense potential do that to you. The characters just aren't engaging. It then is all left to the situations, the dialogue and the actors.
The situation of an Indian girl, Asha (Yami Gautam) bringing home a Pakistani boy, Aman (Ali Zafar) had lots of potential to go either way. To either be out-of-the-world hilarious or to go all jingoistic on you. Fortunately and/or unfortunately it doesn't do either. And as most middle grounds are, it becomes boring.
Other than Anupam Kher who is hilarious in his short appearance, the other supporting cast more-or-less overacts. Yami Gautam doesn't have too much to do and Ali Zafar hams as usual. For some reason, I always find Ali Zafar's dubbing off, it comes out way too loud and seems affected.
As with most films that seem funny in the trailers, Total Siyapaa exhausts all its funny lines in its two-minute trailer. As we expected and yet, sad.
- meeta, a part of the audience
Parental Guidance:
Violence: None.
Language: Clean
Nudity & Sexual content: None
Concept: An Indian girl brings home a Pakistani boy she wants to marry. But, that's not the real chaos.
Total Siyapaa - Movie Details
Total Siyapaa - Trailer
If you cannot see a video above, click here to see it on YouTube