Queen - Preview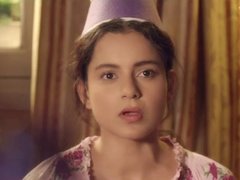 Dir: Vikas Bahl
quick review
:
The worst break-up ever makes for a warm, spirited film.
Reviews
23057 views
Click on the tabs below for wogma review, external reviews, user reviews, and twitter verdict
It is always awesome when you start watching a trailer with eyes ready to roll and instead they turn wide with amazement. Kangna Ranaut is actually playing a lively character with such honesty and grace, let alone without screeching.
The brilliant bit is that the writing is so good that it is difficult to distinguish if it is Kangna Ranaut or her character who is unpretentious and fresh. The story by itself is something that is intriguing but can go either way - a small-town Indian girl is stranded in Europe on her honeymoon.
Though Raj Kumar Yadav doesn't seem to have too big a role in the film, it is great to see him slotted against Kangna Ranaut - an unlikely couple. That along with the fact that the director, Vikas Bahl's co-directed Chillar Party makes me want to look forward to the film.
The music is quirky as one has come to expect from Amit Trivedi. Just wondering if my inkling, that the film will match up too, will be right.
Music Reviews:
Apun Ka Choice - "4/5"
Bollyspice - "4/5"
Bollywood Hungama - "2.5/5"
glamsham - "3.5/5"
IBN Live, IANS - "/5"
koimoi - "4/5"
Milliblog - in a 200-worder, "Queen is Amit Trivedi proving he's king… again!"
Music Aloud - "9/10"