Gabbar Is Back - Review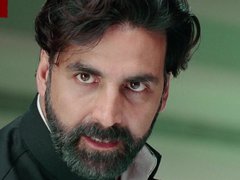 Dir: Krish
quick review
:
One of those films that delivers exactly what you expect only to leave you in a more "meh" mode than you started out with.
Reviews
20963 views
Click on the tabs below for wogma review, external reviews, user reviews, and twitter verdict
Wogma Review
When there is social evil, when it affects you, when your blood boils because of the injustice that has been dealt your way, you want to just shake the entire system up. It reaches your gut and you want to do something yourself. Gabbar Is Back is one of those solutions. It addresses the wrong with anarchy. Interestingly, it acknowledges that anarchy is not the solution. Unfortunately it takes the same route that almost all films that take up the issue do, complete with preachiness. Funnily enough, goes ahead to say, "my way might not be the best, but you ought to do better". However, it just touch a nerve for a bit before going all "holier than thou" on you.
Many a film have addressed corruption top to bottom and back to the top. This one hits a sweet spot by including malpractice in the private sector. Along with the bureaucrats, politicians, and law and order . Gabbar is Back takes on the misuse of power held by doctors and hospitals when a near one is unwell.
Other than this one plot point the rest of Gabbar Is Back is as run-of-the-mill as it gets. Despite the fact that our protagonist is being hunted down by the police and villain alike, the plot doesn't quite thicken. Some of the dialogue is powerful and/or insightful and makes you want it to register well. Also, there is a subtle satire when corrupt officials are motivated into coming out to show really how corrupt they are. But, just when you think the film is actually being smart, you realise the film knows it and doesn't want the audience to miss out on it. So, it decides to make sure you get the point. It shows it, explains it, describes it and underlines it.
Given these circumstances, there is only so much for the actors to do. The hero is wronged, angry, and smart. And because he is Akshay Kumar, he is also a one man army when it comes to the action sequences. The lead lady is as instrumental in the plot as you'd expect her to be. Shruti Haasan is annoying for the little part that she gets. But, you can hardly blame her for a role written so that she gets to change costumes and have a couple of songs picturised on her.
Speaking of which, an actress of Chitrangada Singh's caliber is now doing item numbers – there is something very wrong with this picture - well beyond having a song that objectifies women just because that's a way to sell the film. Even beyond the fact that the makers are clearly not confident about their product by itself.
- meeta, a part of the audience
Parental Guidance:
Violence: Loads.
Language: Abusive language silenced out.
Nudity & Sexual content: Item song.
Concept: Common man takes on the system.
Gabbar Is Back - Movie Details
Banner: Viacom 18 Motion Pictures, SLB films
Producer: Sanjay Leela Bhansali
Director: Krish
Lead Cast: Akshay Kumar, Shruti Haasan
Supporting Cast: Sonu Sood, Sunil Grover, Suman Talwar, Govind Namdeo, Nikitin Dheer, Ishita Vyas, Chitrangda Singh, Kareena Kapoor Khan, Jaideep Ahlawat
Story: A R Murugadoss
Screenplay: Rajat Arora
Dialogues: Rajat Arora
Cinematography: Nirav Shah
Action Choreography: Stunt Shiva
Choreography: Brinda
Music Director: Chirantan Bhatt, Yo YO Honey Singh
Lyrics: Manoj Yadav, Yo YO Honey Singh, Manoj Yadav, Yo YO Honey Singh
Costume Designer: Shabina Khan, Rick Roy
Facebook Page: Link
Running time: 130 minutes
Reviewer: meeta
Language: Hindi
Country: India
Gabbar Is Back - Trailer
If you cannot see a video above, click here to see it on YouTube