Gabbar Is Back - Preview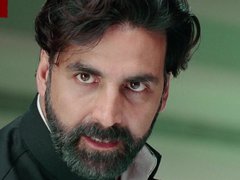 Dir: Krish
quick review
:
One of those films that delivers exactly what you expect only to leave you in a more "meh" mode than you started out with.
Reviews
20465 views
Click on the tabs below for wogma review, external reviews, user reviews, and twitter verdict
I saw the trailer once. And I saw it again. I wanted to be sure that I hadn't missed something that differentiated the film from the umpteen other Akshay Kumar films. I wanted to be sure I hadn't missed anything I hadn't seen in a vigilante/citizen taking on the system Hindi film earlier. Didn't find anything. Zilch.
Only thing I could identify with was when Shruti Haasan's character says "shut up yaa" to the attempt at sense of humor. Else, I was distracted by why Gabbar wasn't out in the open if he wasn't doing anything illegal as the voiceover claims or the typical "there is a hero in all us", "we have to bring the change we want to see" in the "Main hoon gabbar" scene, a la "main hoon krissh" or the best version of them all "main hoon azaad".
The music too doesn't sound very impressive. Looks like we are looking at a yet another film that makes us go, "not again". Oh and wonder why would anyone want to call themselves "gabbar". Let's hope there is at the very least an interesting story behind that.
Music Reviews:
Bollywood Hungama – "3.5/5"
glamsham – "3.5/5"
koimoi - "2/5"
Milliblog - "Gabbar may not appreciate what's being passed off as a soundtrack behind his back."
Music Aloud – "5.5/10"