It's Entertainment - Review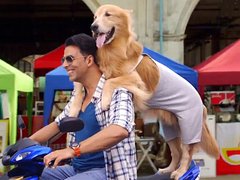 Akshay Kumar, Tamannaah Bhatia
quick review
:
Feels weird recommending an Akshay Kumar film to a group other than Akshay fans - dog-lovers! Other than that Entertainment is as Akshay Kumar a film as it gets.
Reviews
15307 views
Click on the tabs below for wogma review, external reviews, user reviews, and twitter verdict
Wogma Review
For about half the film, various characters go about saying, "I want to kill entertainment," Entertainment being the name of a character. But, taking cue from the film's extensive use of pun, you can say that the makers succeeded on that mission statement. There are reasonable attempts at keeping the humor "different", but nowhere close to good enough.
The film starts out with making fun of obese people and man-boobs. So, you know how sensitive the film is going to be from the word go. Except, that it becomes about love animals and then you know, you should take the film even less seriously than usual. No, not because animal-love is not serious business. But because how can someone who is oblivious to the worthiness of other groups of people - women, for example, be taken seriously when they talk about some other social issue.
Even so, the film just might strike a chord amongst animal-lovers just because of the dearth of Hindi films in that category. But, that's just about it. For all other purposes it is like a Moral Science lesson for class 2, the saving grace being it is not an animated film. Not necessarily, preachy, but melo-dramatic enough to turn you off, even before you can let the lesson reach out to you.
The evil in you is overturned by the goodness of another, this theme has been beaten down to death in Hindi films. More often than not it comes after a few leaps of faith and more from the audience. Entertainment has almost every character turn over in this manner and is far away from being digestible. Not that that is what the writers were aiming for.
Their aim, then, seems to be two-fold. One - to awaken within you, the love for animals and two - to make you laugh. With the first one, I doubt they made any new converts, but I am sure animal-lovers got a lot of "aawwww" moments out of it.
For a change, I didn't mind the attempt at humor, at some places. Not that it made me laugh too hard, but after exhausting every phrase in which the word dog is used and setting aside a couple of innuendoes, juvenile SMS forwards, toilet jokes and self-referencing puns, there was a genuine attempt at being different. They didn't resort to repeating the same joke over and over again to kill it.
Each character was specifically given a certain type of gag-line and there were various analogies, or for want of a better word - verticals that the gag-line took. So, while one character uses names of celebrities instead of words that sound like their name another calls people's bluff when they threaten him using puns related to the threat. As one would expect, this becomes repetitive, but less so than it had potential to.
The only thing to be said about the performances is that Tamannaah Bhatia looked the best of the lot. This is despite Sonu Sood and Prakash Raj playing villains. Enough said.
Also, the lesser we talk about the plot (complete with logical jumps at regular intervals) though, the better it would be. There is only so much one can say about a father wanting a rich husband for his daughter and the husband-to-be adopting any means to achieve that - including, a competition with a dog, for what the dog owns (yes, "the dog owns").
I tried to draw various metaphors for the way in which the word Entertainment was used. Unfortunately, the only one that made sense was the one which involved the murder of entertainment.
- meeta, a part of the audience
Parental Guidance:
Violence: Lots of slapping around.
Language: A few innuendoes.
Nudity & Sexual content: None.
Concept: Love your pets.
General Look and Feel: Bright, loud and Akshay Kumar.
It's Entertainment - Movie Details
Banner: Tips Music Films, Pen India Pvt Ltd
Producer: Ramesh S Taurani, Jayantilal Gada
Lead Cast: Akshay Kumar, Tamannaah Bhatia
Supporting Cast: Krishna Abhishek, Johnny Lever, Prakash Raj, Sonu Sood, Mithun Chakraborty
Cinematography: Manoj Soni
Editor: Steven Benard
Action Choreography: Sham Kaushal
Choreography: Remo D'Souza
Lyrics: Mayur Puri, Priya Panchal, Ashish Pandit
Costume Designer: Ayesha Dasgupta, Jaya Taurani
Facebook Page: Link
Running time: 140 minutes
Reviewer: meeta
Language: Hindi
Country: India
It's Entertainment - Trailer
If you cannot see a video above, click here to see it on YouTube