It's Entertainment - Notepad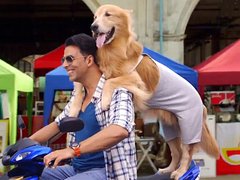 Akshay Kumar, Tamannaah Bhatia
quick review
:
Feels weird recommending an Akshay Kumar film to a group other than Akshay fans - dog-lovers! Other than that Entertainment is as Akshay Kumar a film as it gets.
Reviews
15303 views
Click on the tabs below for wogma review, external reviews, user reviews, and twitter verdict
This page has additional observations, other than the ones noted in the main review.
Plot Summary
Father (Mithun Chakraborty) wants a rich husband for his daughter (Tamannaah Bhatia) and the husband-to-be (Akshay Kumar) adopts any means to achieve that - including, competition with a dog (Junior who plays Entertainment), for what the dog owns (yes, "the dog owns")
What Worked
"Worked" is a strong word for the following things, but nevertheless - - The "funny" lines given to Akshay Kumar and Krushna.
- An aerial shot of a green forest. Absolutely out-of-place and maybe that's why it is refreshing. Most likely, CGI. :D
What did not
Note: This section simply lists the things that I did not like in this movie. This
is not
the overall impression about this movie. Please read the
full review here
Entire sub-plot about Akshay Kumar's father (Darshan Jariwala) What was the point, again?
How can anyone poke fun at Urdu? (Actually, at any language, but Urdu?)
Songs from other films played at various times, including "who let the dog's out".
Tacky CGI at the frozen water body.
Sonu Sood and Prakash Raj's definition of women. Oh well...
Entire host of other things, way too many to enlist.