Drishyam - Review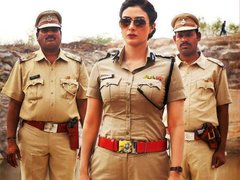 Dir: Nishikant Kamat
quick review
:
I don't remember the last time my emotions were engaged in a thriller, let alone a pounding heart and racing mind. A psychological thriller that hooks, thrills and keeps you thinking after it is done.
Reviews
16886 views
Click on the tabs below for wogma review, external reviews, user reviews, and twitter verdict
Wogma Review
My heart raced through most of the length of the film, and a long one at that. This is even though I know most of what has happened as the characters find out themselves. This even though there is drama, very average performances to distract you from the events in the film. The anxiety comes from not knowing if the protagonists will get out of the situation. The anxiety comes from not knowing how much they will suffer before getting out, if they do at all. The anxiety comes from knowing the odds are against them - not just the situation they are in, but also knowing the writer/director might not necessarily be kind to them either. The anxiety comes from being involved with the characters to such an extent. I don't remember the last time my emotions were engaged in a thriller.
Sure, the situation itself a little out there and the way it is handled a little too smart to be believable. But, once you have suspended that initial disbelief, given into the situation, and the drama begins to unfold you realise the intricacy of the set-up and build-up. Little questions like – why would a mother with a relatively uncommon name Nandini name her daughter a rather common, Anju – are answered and they add to the narrative. Some explanations, of course are a little convenient. But largely, you are doing something beyond rooting for the family you have begun to care for – you understand why people who love them, love them; you want to hurt the people who hurt them.
Drishyam has one of the most riveting second halves I've seen in a long while. Usually, thrillers build up well and fizzle out in the second half. But here most of the action come post-interval. This also means that it takes its time to build up. The start does make you restless and wants you to tell the story to get a move on. And maybe had the film gotten to its crux 10 or so minutes earlier, it would not make you wait for the interval. But, it is difficult to tell what impact that would have had on the audience's involvement with the Salgaokar family.
Also, a lot of the drama took me away from the characters into the reel world. The cheeky-cheesy reference to cinema being an educator is well, cute but a little far-fetched. A self-aware statement that films manipulate thrill using edits and music is instantly followed by use of "comic"music to bring in a laugh – that too when it wasn't necessary at all. The scene was funny by itself and the music actually took away from the smile. Again, a tighter rein on these bits could've also enhanced the story-telling.
Even so, there are things that worked for Drishyam that are otherwise trappings of a thriller. For instance, usually when a character unveils the mystery by speaking it out loud, it is a put off because it feels like you are reading a report. Here, the character is revealing the events as she is figuring it out herself. There are other instances where a shot from earlier in the film is repeated when a character is retrieving it from their memory. Usually, this is annoying because it is more to serve as a reminder to the audience than the character. Here, however, it is an essential piece in the narrative.
Other than commenting on the role of cinema in our lives, the misuse of power, the parenting style of the afffluent, Drishyam poses a question about right and wrong. You do wonder what you would have done if you were in IG Meera's (Tabu) place and how you would have worked your way around the situation that Vijay Salgaokar's (Ajay Devgn) finds himself in.
When a film largely works, it is difficult to find fault with the performances. But, except for a shot or two, Ajay Devgn looks like he is sleep walking. Shriya Saran too comes across as functional. Tabu has an enormous screen presence, yet it can hardly be called a challenge for her. In fact, the two little actresses are the ones who come across as the best actors in the lot. So, Drishyam becomes one of those rare films that has a narrative so strong that mediocre performances don't hamper it.
That is not to say Drishyam is taut. It is hardly flawless, but it glues you - body and mind alert - to the story. A thing you can only rarely say for a thriller. It is not a visual treat that ought to be watched in the theater, but it is a film which can be appreciated and encouraged for its writing. And of course, no home theater can enhance the thrill like a dark cinema hall.
- meeta, a part of the audience
Parental Guidance:
Violence: Beating up of common people by the police. And one torture scene.
Language: Clean.
Nudity & Sexual content: There is talk of watching porn. Also a scene where a character is aroused by a scene in a film.
Concept: The extent to which a person can go to protect their family.
General Look and Feel: Nothing extra-ordinary. A riveting drama unfolds.
Drishyam - Movie Details
Producer: Kumar Mangat, Abhishek Pathak, Ajit Andhare
Director: Nishikant Kamat
Lead Cast: Ajay Devgan, Tabu
Supporting Cast: Shriya Saran, Rajat Kapoor, Ishita Dutta, Mrinal Jadhav
Story: Jeethu Joseph
Screenplay: Upendra Sidhaye
Dialogues: Upendra Sidhaye
Cinematography: Avinash Arun
Editor: Aarif Shaikh
Background Score: Sameer Phaterperkar
Action Choreography: Suniel Rodrigues
Music Director: Vishal Bharadwaj
Lyrics: Gulzar
Costume Designer: Theia Tekchandaney , Navin Shetty, Kirti Kolwankar, Archana Walavalkar
Art Direction: Rita Ghosh
Facebook Page: Link
Running time: 160 minutes
Reviewer: meeta
Language: Hindi
Country: India
Genres: Family, Philosophy, Thriller
Drishyam - Trailer
If you cannot see a video above, click here to see it on YouTube