Revolver Rani - Review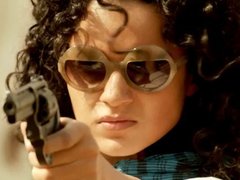 Dir: Sai Kabir
quick review
:
Such a shame. A woman-centric film and all that. Hard to like despite the quirks.
Reviews
14165 views
Click on the tabs below for wogma review, external reviews, user reviews, and twitter verdict
Wogma Review
Despite a borderline cheesy trailer, Revolver Rani - the name, the supposedly women-centric theme and post-Queen Kangna Ranaut make you believe that this film has potential to be a winner. Interestingly enough the cheesiness in the trailer is actually borderline enjoyable quirkiness; the women-centric theme is "supposedly" at the end of it all and Kangna Ranaut does a fantastic job of bringing the zaniness alive.
However, the disappointment with how the "woman-centric" bit of the story plays out takes away everything from what is or could be appreciable about the film. Despite the spoofiness and the goofiness of it all, I just couldn't believe that was how it was panning out for her, our Revolver Rani.
On the other hand, Kangna Raut makes every bit of the crazy Revolver Rani (aka Alka) as believable as enjoyable. Yes, she's over-the-top but in a good way. Now, that's something I'd say very rarely about an OTT performance. Sure, there are places where she loses it and certainly it is one of those performances where the labor shows. But, I must say after Queen I give the lady extra points for just trying. She does lose her steam in some scenes. But, it is unfair to blame it all on her.
The writing itself loses steam and becomes repetitive once too often. The second half tries to bring sense to the plot which is a disservice to the hilarity of it all. It doesn't help that other than Revolver Rani, none of the characters get any attention from the writers. They are all rather plain and painfully predictable.
The one thing that is consistent and would have been beautiful if it were paid a little more attention to is the background score. It is so asynchronous to the visuals that it adds a layer to the eccentricity.
Revolver Rani makes you feel it had the potential to be an enjoyable, out-of-the-box film. But, I doubt, with that second half there was any possible redemption.
- meeta, a part of the audience
Parental Guidance:
Violence: Loads
Language: Abusive language used.
Nudity & Sexual content: A skimpily clad woman
Concept: A quirky woman dacoit gets into politics but then she also falls in love...
General Look and Feel: A generously loud set-up to accentuate the quirky characters
Revolver Rani - Movie Details
Revolver Rani - Trailer
If you cannot see a video above, click here to see it on YouTube