Qaidi Band - Review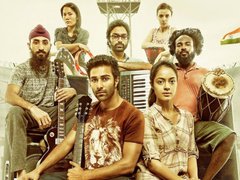 Dir: Habib Faisal
quick review
:
Gets marks just for picking up a different issue and retains them by not falling prey to all possible clichés.
Reviews
2153 views
Click on the tabs below for wogma review, external reviews, user reviews, and twitter verdict
Wogma Review
I am sure many of us, are grateful for our good luck and the graces of the superpower we have faith in. And yet, Qaidi Band makes you realise how much we take for granted - as simple a thing as, we won't be punished for being good. Unfortunately, it falls prey to some cliches and becomes a tad too filmy to retain the impact of "not overestimating the value of what we have".
We are spoon-fed some definitions to begin with and for once, it just might be fairly so. We are told what under-trials are and why they don't wear prison uniforms. After all, we shouldn't be distracted by the relatively nice clothes that the under-trials wear. However, it could have been shown rather told too.
And this is where Qaidi Band distances its audiences. It is as if it is in education mode throughout, even if it has stopped the spoon-feeding. Qaidi Band is constantly exposing you to the things that it thinks you might not know – the atrocities the under-trials or other prisoners face, the sorry state of health and hygiene, the total lack of dignity and so on. Through this though, it feels like it is standing on a podium and addressing us.
To its credit, it doesn't once get preachy. It keeps the message short and sweet. In that sense, some clichés are actually conspicuous by their absence. For instance, what lyrics would you expect from a music band of unjustly imprisoned men and women? A forcefully inspirational, laden with pain and despair. Even though, the lyrics aren't fun or funny, they have a subtlety about them that make you believe the impact they would have on a listener.
However, this good is undone by the uneven speed at which things move in the second half. It is one of those times, when it felt like the writers wrapped it up because they couldn't come up with another way to close it.
Except for Aadar Jain who goes slightly over-the-top every once in a while, the rest of the lead cast keeps things very believable. Anya Singh doesn't let you doubt the strength of the frail-framed Bindu. I just hope her skin wasn't darkened to give her a sepia thus, rugged tone. It is amusing though that Anna Ador and Lin Laishram suddenly disappear. It comes across as a casting and dates issue rather than a natural departure from the story.
Films like Qaidi Band are a dillemma to recommend. They might not be movies you have to or must watch. But, if you don't, can you really complain about Hindi film industry churning out the same kind of films Friday after Friday? But then, should you spend time, money and energy on an average-ish film just because it is different?
- meeta, a part of the audience
Parental Guidance:
Violence: A few scenes of prison torture
Language: A few abusive words
Nudity & Sexual content: One lip-to-lip. Mention of rape.
Concept: Brings forward the state of under-trials in the country's jail
General Look and Feel: Sepia yet not overdone dull.
Qaidi Band - Movie Details
Qaidi Band - Trailer
If you cannot see a video above, click here to see it on YouTube