Kya Dilli Kya Lahore - Review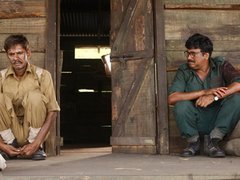 Dir: Vijay Raaz
quick review
:
A neat little film with large intentions. Give it a go for a rare, decent war film.
Reviews
14539 views
Click on the tabs below for wogma review, external reviews, user reviews, and twitter verdict
Wogma Review
Hindi war films are a rarity. Well-made ones even more so. Kya Dilli Kya Lahore is a welcome change just for that. To top it off it is a more-or-less two man act and yet, manages to engage you through the 100-minute run-time.
Both sides of a dusty, rugged section of the India-Pakistan border find themselves with one soldier each. Interestingly, both the soldiers belonged to the other side before partition. It is easy to understand why their allegiance is confused. You empathize that they are put in such a situation at all. You, in fact, find yourself changing sides for both seem like protagonists and you could take either side as the film moves from one mini-event to another.
Kya Dilli Kya Lahore doesn't move much. Not only in its physical space or the time (it is set over a period of about 24 hours), but also in terms of what actually happens in the film. The movement is in emotions rather than events. This gives the film fluidity which feels so different from the episodic nature of many a Hindi film.
Given these circumstances, the film does run the risk of becoming repetitive. After all, there are only so many ways in which an Indian and a Pakistani (even if they are newly so) can sling mud at each other. Unfortunately, Kya Dilli Kya Lahore does fall prey to that. But, the pace is such that it gets itself out soon enough.
Also, characters go through a back and forth in emotions which is believable but could have very easily gotten iterative, but for the brilliant performances by Vijay Raaz and Manu Rishi. From the word go their act seems so effortless and natural that you take it for granted. I caught myself thinking of it as a performance only when I deliberately focused on it. Till then and immediately after it was a given.
Kya Dilli Kya Lahore is not only well-shot, but is also almost background score less - which again is a rarity in Hindi cinema. With only frog croaks and the sound of the wind in the background at many times, when the songs blare (most likely to break monotony) it is jarring.
Other than that, the film brings about the vanity of war and the impact of macro level decisions made by politicians on the common man soldier just about well - with a tinge of dark comedy too. It could be called cliché too, but every once in a while cliché works.
The last Hindi war film we saw was, War Chhod Na Yaar and it was well, not too good. Kya Dilli Kya Lahore is not only well-intentioned it is well made too. Certainly worth the 100 minutes.
- meeta, a part of the audience
Parental Guidance:
Violence: It's a war film, so lots of gun shots.
Language: Lots of abusive language used.
Nudity & Sexual content: None.
Concept: The futility of war.
General Look and Feel: Dusty, grim.
Kya Dilli Kya Lahore - Movie Details
Kya Dilli Kya Lahore - Trailer
If you cannot see a video above, click here to see it on YouTube