Kapus Kondyachi Goshta (Marathi) - Review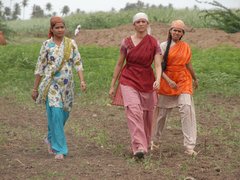 Makarand Anaspure, Samidha Guru, Bharat Ganeshpure, Gauri Konge, Mohini Kulkarni, Netra Mali
Dir: Mrunalini Bhosale
quick review
:
A story worth telling, but not the way it is told here.
Reviews
3408 views
Click on the tabs below for wogma review, external reviews, user reviews, and twitter verdict
Wogma Review
Marathi cinema has a long-standing, populist identity of being realistic. Very often, films nowadays are true stories, especially rural and social ones. Sure, there is no formula but filmmakers seem to be getting away with a lot. One, makers feel no liability to develop such stories. Two, almost everything goes under the mask of good intentions and realism. Third, these subjects help them garner enough sympathy to win big awards. This does what it needs to.
As irrelevant as this maybe, Kapus Kondyachi Goshta claims to have won some 12 international awards. But that's not the point. Its claim to have entered Oscar's final list of contention is alarming, and that too for the 'Best Picture' category. If indeed that's true, how could it even manage to get there, when India's best bet 'Court' couldn't? A tough question, but not as significant as the actual worth of the product.
Farmers' suicide is an undying issue across the state. A lot has been filmed on their lives, more particularly in Marathi. But not sure how many of those focussed on families of the dead farmers. Death ends a problem for an individual, but what about the households that are left behind to endure the suffering? Kapus Kondyachi Goshta is their story. It's an account of triumph over tragedies. And in a way, the idea itself is interesting and worth contemplating at the very least. But having potential is one thing and fulfilling it is another. As things stand, this film virtually covers all I said or missed in the beginning.
A family of four sisters is coming to terms with the unpleasant life after their parents' death. The entire village has abandoned them (for some unknown reasons). With no one to protect, farm or support, except a straightforward lawyer, they are on their own amidst the hinterland of cotton growers. The oldest sister knows the outcome of letting an outsider to farm their land. She thinks she doesn't know farming. More so, she is unsure of entering a supposedly man's territory.
A farmer's kid learns farming when in the mother's womb as does a businessman's, coaxes the lawyer. She is uncertain. Not only is she penniless, but without basic farming necessities as well. Something has to be earned for survival. Life puts her in a situation where she has to gamble everything. A classic biography on the face of it, the film isn't even half as good as the plotline reads. There are no ups and downs, no narrative novelty, not a single twist either. Unless ups and downs mean melodrama, over-the-top performances that go with it and hammering score though, then you have it.
Within the story of these sisters lies the theme of women empowerment and real-world issues. With every second film trying to be a social reformer, this is no surprise. Only a handful of them manage to impress without being overwhelmingly instructive. That's a writer's job and a tough one. A director cannot overlook his or her duties either.
Music is inconsistent through the film. Compositions are undeniably brilliant. But is the purpose of musical pieces is to heighten your experience or is to constantly remind you the film's title? After a brief pause for dialogue, songs come back to traumatise you. Luckily, this is a dialogue film and not a musical. My reaction to this might be a bit exaggerated, but so is the film.
This review is by guest reviewer Abhishek Gosavi. Just another cinephile who tweets as @bombaybug.
Parental Guidance:
Violence: No violence.
Language: A lot of abuses, but all of them are muted.
Nudity and Sexual content: No nudity.
Concept: A story of four sisters against the backdrop of farmer suicides.
General Look and Feel: Very raw and amateurish.
Kapus Kondyachi Goshta - Movie Details
Kapus Kondyachi Goshta - Trailer
If you cannot see a video above, click here to see it on YouTube