Titli - Review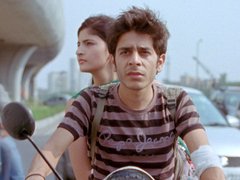 Ranveer Shorey, Amit Sial, Hasan Ahmed, Shashank Arora, Shivani Raghuvanshi, Lalit Behl
Dir: Kanu Behl
quick review
:
Noir taken to such a grim level that you disconnect after a bit and begin to look at it as someone narrating a gruesome story. Unfortunately, the story and its characters are just that – gruesome, not interesting.
Reviews
11180 views
Click on the tabs below for wogma review, external reviews, user reviews, and twitter verdict
Wogma Review
A world that you have heard of, you know exists but have hardly ever chanced upon it. Whatever your experience in life, newspaper stories do manage to keep you aware of the cruel world out there, where a 'human' is capable of anything – good and equally bad or even worse. So intense and brutal is Titli's world that you have no option but to disconnect from it, to survive it – like difficult times in life. This disconnect however, because it is a film takes the mind to the things missing in the film – well-fleshed out characters, for instance.
Sure, the characters are all grey. They are cruel and yet for the people they care about, they are tender. Yet, each character in the film comes across as untrustworthy. The world they inhabit is such – you can trust no one. However, this is all established in the first few minutes of the film. From there on, it is pretty much repetition of the same. You do wonder how Titli, the title character will get out of the mess. But, I am not sure, I am rooting for him. When one is watching out for only oneself, don't they get what they deserve? But hey, that's how real life plays out.
And all departments work towards this reality. The art direction with the little things lying around in the background, the clothes the characters wear, the minimal background music along with the natural sounds. So much so that at one point I wondered if having people gargle aloud while brushing their teeth is the easiest way to get the "real" feel.
There are a couple of scenes that are way too cruel that you wish them to be unreal. The cynicism of every human being in a certain environment wanting to pay pain forward gets slightly overwhelming. But, you desensitize yourself to it soon enough. And get distracted by various threads in the film left midway.
Virkam (Ranveer Shorey) the oldest brother in this dysfunctional family is omnipresent in the first half. However, in the second half, not only does the character disappear but so does his effect on the youngest brother and protagonist, Titli (Shashank Arora). The one in between, the unofficial mediator, Bawla (Amit Sial) is left as that – the one who calms everyone down, except for a glimpse of his own struggle. But, the glimpse is not followed through on, then why show it at all? Neelu (Shivani Raghuvanshi), Titli's wife plays her role as a daughter and daughter-in-law but has her own secrets. The father (Lalit Behl) is the quirk, the only one who arouses a smirk in this stark environment.
Titli, the film, has no room for humor. It is relentless which works very well for the film. All the actors pitch in perfectly. Shashank Arora is deadpan, which works for Titli because the brutal things that happen around him do affect him, but he plays cool. He knows how his behaviour ought to be different with different people. However, whether this will work in the next film, is something we will have to wait and watch. Ranveer Shorey's Vikram certainly deserved more space in this film. His foul-mouthed screen presence in the first film had me believe that the film was about his character.
Titli pretty much says what it has to say in its two-minute trailer. After that it is like the follow-up slides in a presentation that elaborate on each point. The expansion could have added a lot of value, but doesn't quite do it.
- meeta, a part of the audience
Parental Guidance:
Violence: Lots and gruesome too
Language: Lots of abusive language
Nudity & Sexual content: A kissing scene and one where a man attempts to make out with his wife.
Concept: The harsh reality of life.
General Look and Feel: Colorless and dry.
Titli - Trailer
If you cannot see a video above, click here to see it on YouTube