Tere Bin Laden Dead Or Alive - Preview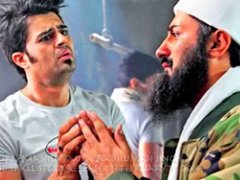 Manish Paul, Pradhuman Singh, Sikander Kher, Ali Zafar, Piyush Mishra, Iman Crosson, Sugandha Garg, Munna Dhiman
Dir: Abhishek Sharma
quick review
:
Promising premise. Interesting situations get repetitive, jokes unfunny and film bizarre.
Reviews
8722 views
Click on the tabs below for wogma review, external reviews, user reviews, and twitter verdict
I don't know if it is funny, I watched it thrice and I could barely make out what was going on, beyond the basic plot. And, it doesn't look like I will find any of the loud, slapsticky comedy funny. However, there is hope because – Tere Bin Laden*. And there is trepidation because – The Shaukeens.
I'd be happy if Tere Bin Laden – Dead Or Alive hits it even between the two.