Pyaar Ka Punchnama 2 - Review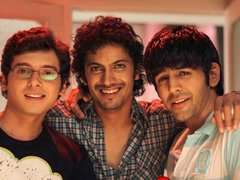 Kartik Aaryan, Nushrat Bharucha, Sunny Singh Nijjar, Omkar Kapoor, Sonalli Sehgal, Sharat Saxena, Ishita Sharma 1
Dir: Luv Ranjan
quick review
:
Pyaar Ka Punchnama 2 is exactly what you expect. Stereotyping men as poor puppies and women as well...the female kind with a scattered few laughs.
Reviews
13223 views
Click on the tabs below for wogma review, external reviews, user reviews, and twitter verdict
Wogma Review
I feel bad. Bad for director-writer Luv Ranjan that he has only met women who take advantage of the man of their life; who are manipulative and completely disregard the man's feelings in the name of love. I feel bad for the male leads in the film who are not only characters, they are symbolic of a larger population. I feel bad for the whole community who they represent. I feel bad for anyone who can relate to these men. It is sad that they haven't encountered any mature women who care and love. It is sad that a supposedly comedy film made me sad and feel bad. Okay, I had a few laughs. But, the larger picture is a bit to grim for a person who believes the world is full of healthy relationships.
Oh well.
By the way, who are these men who are so confident when wooing a girl that they succeed in getting her attention and more in one go. But these same men become mindless, spineless and do the lady's bidding like a domesticated pet? How? Why? Later, when they grow theis spine back they ask why too. And the answer is they want to marry their hand! (given away in the trailer itself!) No comments.
Moving away from bewilderment over attitude towards relationships and coming to the movie itself. It has snappy, witty dialogue and I laughed out loud at some of them too. But, then from work, parent and girlfriend related jokes they became only girl-bashing jokes – which was also fine for a bit. It then became repetitive and predictable.
The performances are believable. That is all that can be said really, given the characters were what they were. There is of course, the much expected and I guess, looked forward to monologue by Kartik Aaryan. But that too had a stale feel about it.
Pyar Ka Punchnama 2 then is more or less what you expect, more of the same with a slightly better hand at direction. Storywise though if you enjoyed the first installment, you would like this one too. If you were disappointed /upset with that one, it will carry forward to this one. It is not just the fact that it is misogynist for I would have a problem with a man-hating movie too. There is no further insight or deeper look at the relationships.
It is not really a part 2, in that sense, it is a remake.
- meeta, a part of the audience
Parental Guidance:
Violence: None
Language: All abusive language substituted but a lot of it can be made out by lip movement.
Nudity & Sexual content: A lot of making out, a couple of kisses. Skimpily clad women and bare chested men.
Concept: Love kills.
General Look and Feel: Bright and loud.
Pyaar Ka Punchnama 2 - Movie Details
Producer: Abhishek Pathak
Director: Luv Ranjan
Lead Cast: Kartik Aaryan, Nushrat Bharucha, Sunny Singh Nijjar, Omkar Kapoor, Sonalli Sehgal, Sharat Saxena, Ishita Sharma 1
Story: Luv Ranjan
Background Score: Hitesh Sonik
Choreography: Bosco Martis, Ceasar Gonsalves, Howard Rosemeyer
Music Director: Hitesh Sonik, Sharib Sabri, Toshi Sabri
Lyrics: Akram Sabri, Kumaar, Danish Sabri
Facebook Page: Link
Running time: 135 minutes
Reviewer: meeta
Language: Hindi
Country: India
Genres: Comedy, Relationships, Romance
Pyaar Ka Punchnama 2 - Trailer
If you cannot see a video above, click here to see it on YouTube