Pyaar Ka Punchnama 2 - Preview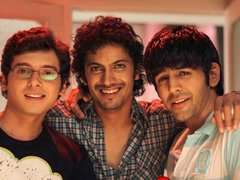 Kartik Aaryan, Nushrat Bharucha, Sunny Singh Nijjar, Omkar Kapoor, Sonalli Sehgal, Sharat Saxena, Ishita Sharma 1
Dir: Luv Ranjan
quick review
:
Pyaar Ka Punchnama 2 is exactly what you expect. Stereotyping men as poor puppies and women as well...the female kind with a scattered few laughs.
Reviews
13224 views
Click on the tabs below for wogma review, external reviews, user reviews, and twitter verdict
The boys are at it again. They want their women but they want to complain about their complaints. And that I guess, is the summary of many a relationship. Which is all fine and good, everyone needs to vent after all. Some people go ahead and make a movie out of it. Which is alright too.
But same vents from even the best of your friends gets repetitive and boring. Good thing about this is though, you can say that it is getting boring out loud. The Pyaar Ka Punchnama 2 trailer promises you exactly that – more of the same. The silver lining is that more of the same makes you expect a few good laughs and that awesome monologue.