Naam Shabana - Review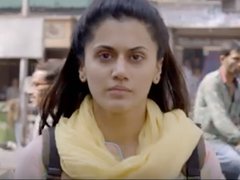 Dir: Shivam Nair
quick review
:
Good news: There is a woman beating up bad man after bad man to save the world. Bad news: That is not qualification enough to make a film good.
Reviews
7448 views
Click on the tabs below for wogma review, external reviews, user reviews, and twitter verdict
Wogma Review
The first fear of many non-Askhay Kumar fans, especially after watching the trailer was that Naam Shabana will become more about him than the protagonist, Shabana (Tapsee Pannu). To Akshay Kumar fans' dismay that is thankfully not true. Unfortunately though, just having a female protagonist who swiftly beats men up doesn't make for a good thriller. You know what that means right? Neither of the two sections of the audience mentioned above are likely to be satisfied.
Whenever a film has two distinct sections it raises a flag in my head. Does each one hold interest as a stand-alone story? Usually neither is. Such films have to work more than double of working on a single story because the connection is all important and shouldn't feel contrived. Is the connect between the two stories strong and interesting? Most likely that isn't there either. Unfortunately, that's true of Naam Shabana too.
The episodic aspects of the story have question marks written all over them too. For instance, Shabana's plan before interval is rather tactless or for a very smart and dreaded villain it is strange that he doesn't know he is being followed. To top it all off, the screenplay is ridden with an unnecessary mysterious ambiance.
All this slows down an already slo-mo-aided film. Sure, some directorial decisions are subtle and nicely done such as the aerial views of cities – from Mumbai to Vienna to Kuala Lampur; choosing not to add a couple-bonding-while-falling-in-love montage; choosing not to explain rules of the sport Shabana is playing; picking a rather mundane location as a meeting spot for characters which sticks in audience's memory to be retrieved later in the film.
In one swift interaction between characters the writers address religion, call sport a waste of time, comments on soldiers and even slides in a sexist remark. Later in the film, there is even a dig at corporates taking advantage of "free" mentality (Jio?). You could debate the point of view, but the writing brought a smile. You also smile as you wonder why only Shabana needed all this training while the male field agents got by with paunches.
Despite some parts of the film seeming over-directed through camera angles, background music, awfully edited action sequences and slow-motion, the subtlety mentioned above and some of the character nuances work. Shabana is introduced as a woman who will not be wronged even if she is not entirely right through a sequence rather than a voiceover. That in itself is fresh. Tapsee Pannu adds to the character by the slightest shift in expression. You discover that Shabana likes being wooed by this one guy but she corrects her emotions within a few seconds – and you can see this transition through Tapsee Pannu. On the other hand Manoj Bajpai seems uni-dimensional and Akshay Kumar comes across as comic relief.
While I will let you wonder if Shabana has to play the "woman" card, what I really admired that the makers mostly resisted giving her anything glamorous. The only thing that could be remotely called glamorous is that this seemingly middle class girl almost never wore the same set of clothes twice.
Given these things that were done well, the pace of the film could have been forgiven. But, it is difficult to forgive no pounding hearts in a thriller. When the protagonist feels too safe, nothing can make you worry about her, can it?
- meeta, a part of the audience
Parental Guidance:
Violence: Lots of fist fights
Language: Clean
Nudity & Sexual content: An attempt at making-out scenes
Concept: A woman is chosen to be a field agent in a covert operation.
General Look and Feel: The regular action texture.
Naam Shabana - Movie Details
Banner: KriArj Entertainment, Plan C Studios, Friday Filmworks, Reliance Entertainment, Cape of Good Films
Producer: Neeraj Pandey, Shital Bhatia
Director: Shivam Nair
Lead Cast: Tapsee Pannu
Supporting Cast: Akshay Kumar, Anupam Kher, Danny Denzongpa, Madhurima Tulli, Elli Avram, Manoj Bajpai, Prithviraj Sukumaran, Virendra Saxena, Murli Sharma, Taher Mithaiwala
Story: Neeraj Pandey
Screenplay: Neeraj Pandey
Cinematography: Sudhir Palsane
Background Score: Sanjoy Chowdhury
Choreography: Vishnu Deva
Music Director: Meet Bros Anjjan, Rochak Kohli
Lyrics: Manoj Muntashir, Kumaar
Costume Designer: Falguni Thakore
Facebook Page: Link
Running time: 150 minutes
Reviewer: meeta
Language: Hindi
Country: India
Naam Shabana - Trailer
If you cannot see a video above, click here to see it on YouTube