Naam Shabana - Notepad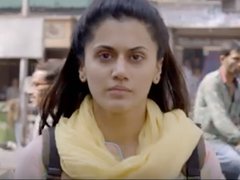 Dir: Shivam Nair
quick review
:
Good news: There is a woman beating up bad man after bad man to save the world. Bad news: That is not qualification enough to make a film good.
Reviews
7292 views
Click on the tabs below for wogma review, external reviews, user reviews, and twitter verdict
This page has additional observations, other than the ones noted in the main review.
Plot Summary
A woman is chosen to be a field agent in a covert operation.
What Worked
Some of the details – a cop placing money for a restaurant bill on the table before running after a villain; Shabana regularly tugging her backpack straps in a chase sequence.
I found it interesting that without any background, in the first scene itself the audience is subtly shown who the good guys are. This is by things like having them say "Jai Hind". I realised there is no real reason for me to think of the chasers as the good guys and the one being chased as the villain and not the other way around.
What did not
Note: This section simply lists the things that I did not like in this movie. This
is not
the overall impression about this movie. Please read the
full review here
Product placement like Toyota and Pepsi.
A character is taken from an accident spot to an empty room in a hospital? Another example of over-direction.
Shabana doesn't even question what the purpose of her mission is? She blindly believes?
Nothing special about the training montage