Naam Shabana - Preview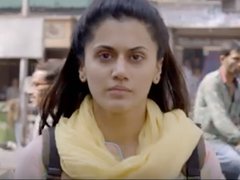 Dir: Shivam Nair
quick review
:
Good news: There is a woman beating up bad man after bad man to save the world. Bad news: That is not qualification enough to make a film good.
Reviews
7963 views
Click on the tabs below for wogma review, external reviews, user reviews, and twitter verdict
The story might wind a few ways, which even sound interesting, but it ultimately comes down to a covert operation aimed at saving the world by Akshay Kumar. Along the way you have a woman who has been crossed. And what to do they say about the wrath of scorned women?
It is just that you don't expect a frail Tapsee Pannu, especially after she has played rather timid roles in Pink and The Ghazi Attack. She holds one expression well, and it doesn't look like the film requires her to do more.
So, expectations then are as low as hoping that it won't bore us by being more of the same and provide the minimum thrills expected from this genre.
Music Reviews:
Bollywood Hungama - "2/5"
Deccan Chronicle - "screams avoidable to the listener"
Milliblog - "Rochak's Rozana is Shabana's highlight"