Lekar Hum Deewana Dil - Review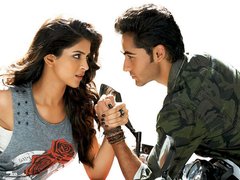 Dir: Arif Ali
Reviews
14471 views
Click on the tabs below for wogma review, external reviews, user reviews, and twitter verdict
Wogma Review
For a brief moment there, I thought Lekar Hum Deewana Dil is aiming at something larger, something beyond which noone has suspected it off, something about the urban youth being sensitized to what the interiors of India looks like, even feels like. But, that is a fleeting moment. Other than that, it is a run-down version of a domestic bickering which is as baseless as many a domestic quarrels.
Not that fights like these don't make for good stories or even movies. But when you don't empathize with the petty and selfish lady and the smitten boy, there's little hope. I'm all for negative characters as main leads and I like seeing the not-so-nice side of our heroes. But, these just don't inspire any interest.
The performances could've been blamed had I gotten over how superficially written the characters were. For a bit, I did consider the possibility that the characters were intentionally made to be so inconsiderate towards the people around them, to portray the apathy of the urban youth. But towards the end, it is difficult to believe that was the intention.
The rest of the writing, and movie too is as generic as it could get with hardly any meat in terms of dialogue, supporting roles, music, etc.
Lekar Hum Deewana Dil is one of those films for which you can't even say that it could have been better or it had potential. It's more a case of been there, seen too many of those.
- meeta, a part of the audience
Parental Guidance:
Violence: None
Language: Mostly clean
Nudity & Sexual content: A couple of kisses. A guy trying to initiate sex and the girl refuses.
Concept: That a couple doesn't realise they are in love.
General Look and Feel: An attempt at hep.
Lekar Hum Deewana Dil - Movie Details
Lekar Hum Deewana Dil - Trailer
If you cannot see a video above, click here to see it on YouTube