Inside Out - Review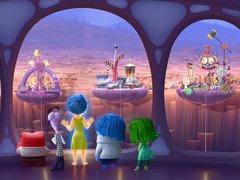 Amy Poehler, Phyllis Smith, Bill Hader, Lewis Black, Mindy Kaling, Kaitlyn Dias, Diane Lane, Kyle MacLachlan
Dir: Pete Docter , Ronaldo Del Carmen
quick review
:
The plot, details, specific issues touched upon are all laden with insight, humor and gorgeous visuals. Above all it asks if you should really be seeking happiness with all your might.
Reviews
6414 views
Click on the tabs below for wogma review, external reviews, user reviews, and twitter verdict
Wogma Review
Our mind is a pretty place. At least the way director/writer Pete Docter sees it. It is gorgeous, colorful and most of all it wants to stay happy. Well that's a no-brainer, right? But, have you ever seen animated emotions? You've felt animated emotions, but have you seen them? Have you ever imagined them interacting with each other? Inside Out's unique concept gets your attention from word go and keeps it there, despite a few manipulations here and there.
The concept by itself takes a little while to wrap your head around. The entire theme is a metaphor, so there is always something more being said than what you hear. I don't remember the last time I saw a film that was so rich in profundity. It is constantly edging you to think and yet doesn't take itself too seriously. It goes about its business with good humor – satirical at times, plain knowing at others.
Of course, like all metaphors, this one breaks down every once in a while too. You can see the writers wrecking their brains to get their characters, the emotions out of the soup they've gotten themselves into. And they take a jerky jump, asking you to take a leap of faith and just go along. Yes, it jars, but since you are watching one of the few films that have attempted this, you forgive and hop along. Just like, the documentary style introduction bothers but doesn't put you off.
Even without the brain-tickling topic, Inside Out has many a thing to warrant a second viewing. The animation, the color-laden palette, the voices – each is as beautifully done as the other.
I doubt though, that the film would be any less enjoyable if these were sub-par. After all, at its very base it poses spiritual questions like - should we really pursue happiness and struggle because of the unsuccessful pursuit? You also realise that the film has only scratched the surface of what goes on in your head. I could go into a lot more detail about how the film breezes through the inside view of so many little events of our day-to-day lives, but it is something you should experience rather than read.
Yes, go ahead and witness this coming of age of feelings.
- meeta, a part of the audience
Parental Guidance:
Violence: None
Language: Clean
Nudity & Sexual content: None
Concept: What goes on in our mind?
General Look and Feel: Bright and pretty
Inside Out - Movie Details
Producer: Jonas Rivera
Director: Pete Docter, Ronaldo Del Carmen
Lead Cast: Amy Poehler, Phyllis Smith, Bill Hader, Lewis Black, Mindy Kaling, Kaitlyn Dias, Diane Lane, Kyle MacLachlan
Supporting Cast: Richard Kind
Story: Pete Docter
Screenplay: Meg LeFauve, Josh Cooley, Pete Docter
Editor: Kevin Nolting
Music Director: Michael Giacchino
Facebook Page: Link
Running time: 105 minutes
Reviewer: meeta
Language: English
Country: USA
Genres: Animation, Philosophy
Inside Out - Trailer
If you cannot see a video above, click here to see it on YouTube