Bobby Jasoos - Review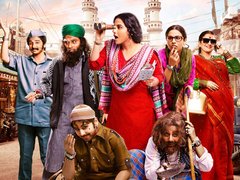 Dir: Samar Shaikh
quick review
:
A case of too many sub-stories spoil the movie.
And oh, none of them a thriller (considering it's a detective story.)
Reviews
16815 views
Click on the tabs below for wogma review, external reviews, user reviews, and twitter verdict
Wogma Review
It must indeed be a difficult task to make a film with a woman at its center. So difficult are they to write stories around them that the movies have to be padded with a romantic track, a couple of songs and so on. Such a shame. Even so, Bobby Jasoos tries. Not only does it try to make a woman-based story work it tries to highlight how life of women in India is kept from reaching its potential. The question then is, can you watch a movie for an attempt at making a woman-centric film?
One of the main reasons people were looking forward to Bobby Jasoos is because its a Vidya Balan product. One of the very few female stars who can command an audience just because of her. While, she doesn't fail as an actor, Bobby aka Bilqis, is hardly challenging enough for her.
However, it isn't necessary that she take up projects that only challenge her as an actress. Sometimes it is just the subject that needs attention. And who can deny that attention is necessary for the woman who is suppressed by society, treated as just something that needs to be passed on from father to husband at the right age? This part of the writing is done subtly and is indeed very appealing.
Unfortunately though, the rest of the film is spread too thin over too many sub-plots. From lovers who need a detective to ward-off proposals arriving for them through the arranged marriage route by looking for "flaws" in the prospective applicant to fathers who can't show their love and care directly to their child to lovers who can't own up to their feelings. The main point of intrigue, the mystery itself has a lame resolution and provides no thrill, even though it tries to tie two main threads of the film together.
Top this off with the additional pressure of having to be funny and commercially viable. Yes, commercially viable supposedly = dream sequences, no matter how random and out-of-place they are! I cannot think of another reason for the existence of that song. Oh well.
Other than Vidya Balan, Ali Fazal has some brief moments that work well. Arjan Bajwa has a screen presence even if it requires him to hold one expression. The rest of the cast too have their share of screen time which they do well with.
None of this is good enough though given how many stories Bobby Jasoos, the film is trying to tell. Each distracting from the other, not letting the other come to its point.
- meeta, a part of the audience
Parental Guidance:
Violence: None.
Language: Clean
Nudity & Sexual content: None.
Concept: A woman trying to make her mark
General Look and Feel: Bright and chirpy.
Bobby Jasoos - Movie Details
Producer: Dia Mirza, Sahil Sangha
Director: Samar Shaikh
Lead Cast: Vidya Balan, Ali Fazal
Supporting Cast: Arjan Bajwa, Anubrata Basu, Supriya Pathak, Tanvi Azmi, Aakash Dahiya, Rajendra Gupta, Kiran Kumar, Benaf Dadachanji, Prasad Barve, Zarina Wahab, Anupriya Goenka
Story: Sanyuktha Chawla Shaikh
Dialogues: Sanyukta Shaikh Chawla
Cinematography: Vishal Sinha
Editor: Hemal Kothari
Choreography: Brinda
Music Director: Shantanu Moitra
Lyrics: Swananda Kirkire
Costume Designer: Theia Tekchandaney , Sheetal Sharma
Facebook Page: Link
Running time: 120 minutes
Reviewer: meeta
Language: Hindi
Country: India
Bobby Jasoos - Trailer
If you cannot see a video above, click here to see it on YouTube