Amit Sahni Ki List - Review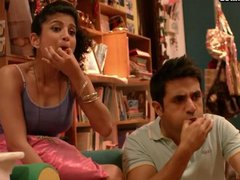 Dir: Ajay Bhuyan
quick review
:
Like its lead character, the film is a little lost. Which by itself isn't a bad thing, but difficult to make an interesting story out of.
Reviews
17655 views
Click on the tabs below for wogma review, external reviews, user reviews, and twitter verdict
Wogma Review
Romcoms by default have a fresh feel about them. They are light and fluffy and are intended to make you smile at the exaggeration. In that way, Amit Sahni Ki List fits the bill perfectly. It also tries to be different in the sense that it's all about this guy who is all set in his life and seems completely focused on finding the perfect woman. His search is built up reasonably well, but doesn't hold interest after a point.
A part of it might be because Amit Sahni doesn't quite know what he wants. But then again, who knows what they want? In that sense, it is realistic with Amit rushing towards the side that looks greener. My guess is, this would have been fine had the film been unbiased towards who Amit should pick. The film has clearly picked sides but wants us to believe that Amit is the decision-maker. And this is where the film looks like it has lost its advantage.
It has Amit Sahni represent the lost urban youth when it comes to love. That generation which thinks it knows exactly what it wants when it comes to a life partner, but has no clue when push comes to shove, also known as, when they fall in love. The pity is that there is no way the film could've ended right. Whatever Amit Sahni did would've done, it would've been a dissatisfactory call.
Fortunately, we have the performances in the right ballpark. Vir Das is aptly charming and confused. Vega Tamotia is her brand of cute and so is her character Mala. Anindita Nayar does the slick, businesswoman bit neatly. Kavi Shastri has the best lines of the lot and has a good comic timing to pull them off too.
The film tries its hand at being modern all to be more annoying than trying to connect with the audience. It has Amit Sahni's mom speak in SMS-ese. So she actually talks in abbreviations. Then you have SMS/chat exchanges show up on screen in call bubbles. All very slick but this distracts from the story, rather than blend with the narrative. It all comes across as very overt.
For all its modernity, Amit Sahni Ki List does keep the regular traps of relationship films. And it looks like a very deliberate attempt. So, while you do have the couple bond over the regular fun, filmy things, there is something very natural about the way they behave too. Interestingly, they keep sex out of the picture completely. The regular arguments related to friends and career are avoided too. Yet, you don't sense the chemistry except in a couple of scenes. A lot of it has to do with Amit Sahni breaking the fourth wall and talking to us, quite unnecessarily so.
Other than that, the songs are not too intrusive. I'd like to talk specially about the opening song. The film is called Amit Sahni Ki List - that is a film which includes the male protagonist's name in its title. It starts with an all woman song that has lyrics that claim that the women are more than just their bodies. But visually, it is like any other item number fully focused on objectifying their sexuality. It is disturbing. This song looked nothing like the trailer, so it was disorienting. I almost wondered if I walked into the wrong screen. Only to find out that it indeed had nothing to do with the film, and unabashedly so. The first line of the film claims that they did it for the producers! I didn't know whether to laugh or cry.
Off late, I am in a similar conundrum with respect to my overall opinion of a film. I don't like how the film was narrated or how they got to the conclusion or what specifically the conclusion was too. At the same time, story-wise I can't quite tell what would've been a fairly reasonable change they could've made. Maybe even fluffy romcoms, while staying within the realm of exaggeration they are allowed, have started representing life all too well. Maybe that's what doesn't work about these films - they don't take me to a fairyland and neither do they stay real enough for me to identify with them.
- meeta, a part of the audience
Parental Guidance:
Violence: None
Language: Abusive language silenced out
Nudity & Sexual content: Women in skimpy dresses. A couple of lip-to-lips.
Concept: Finding "true" love
General Look and Feel: An attempt at making it look modern with call-out bubbles and breaking the fourth wall, etc.
Amit Sahni Ki List - Movie Details
Amit Sahni Ki List - Trailer
If you cannot see a video above, click here to see it on YouTube