Amit Sahni Ki List - Preview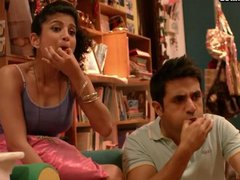 Dir: Ajay Bhuyan
quick review
:
Like its lead character, the film is a little lost. Which by itself isn't a bad thing, but difficult to make an interesting story out of.
Reviews
17194 views
Click on the tabs below for wogma review, external reviews, user reviews, and twitter verdict
We all have some criteria in mind for 'the one' of our lives. Some of us more romantic than others, some others more practical than others, most a combination of the two and a few of us would want to go with the flow instead of anticipate and stress over it. Amit Sahni doesn't look like he's in that last category for sure.
Note how the trailer makes you think and identify with the character rather than the actor. I admit, it's not that Vir Das is a "star", yet he carries his own kind of branding. Fortunately, that branding isn't overshadowing the character in this one. Especially since he seems to be like every other urban youth who wants to tick that item of their list - life partner.
I see this romcom connecting with its audience, yet I wonder if it'll spoil things by becoming repetitive. As I saw the trailer, the only thing that kept coming to mind was, it might work if it is short. That can be a good thing, because it seems to have piqued some interest. On the other hand, I am already looking forward to it being short. Let's just say, we'll know soon.
Music Reviews:
Milliblog - "Functional list for Amit Sahni."
Music Aloud - "7.5/10"