Amar Akbar & Tony - Review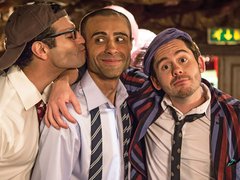 Rez Kempton, Sam Vincenti, Martin Delaney, Karen David, Laura Aikman, Goldy Notay
Dir: Atul Malhotra
quick review
:
Amar, Akbar & Tony is cute (not macho), unpretentious, titillating and touching. Delightful and easy watch!
Reviews
913 views
Click on the tabs below for wogma review, external reviews, user reviews, and twitter verdict
Wogma Review
So, after weeks of looking for interesting films to watch, I discovered this one on Netflix. It immediately caught my attention not only because of the smart tweak to the original title--Amar, Akbar, Anthony--but also because of the cover picture which, to me, promised a more mature and inapprehensive, perhaps metrosexual, approach to depicting male bonding. Even if mildly goofy, there is an endearing quality to this picture. Here, two adult male friends can be so close that a peck on the cheek is neither offensive nor out of place. And, when they address each other as "bruv" in the movie, you know it is not merely an informal way of calling another guy. It is deeper than that. There is an unshakeable sincerity to it, which comes only with the bonding that's been slow-cooked over time.
Amar, Akbar & Tony are not long lost brothers, who discover their blood ties much later in life. Instead, they are childhood friends, who have grown up together in a desi neighborhood of London. The film is about their adult years.
At the beginning you are not sure where the movie will be headed, how similar or dissimilar will it be to Amar Akbar Anthony and so on, but soon a serious, heavy-duty event occurs that sets the tone and approach completely apart. The event invites much change to the lives of characters. And Amar, Akbar & Tony then becomes a movie about life's tragedies. And, each character has a little tragedy to face. However, the film has a positive tone to it: 'the events that shake us, also make us' sort of tone.
It is a film about Indians abroad, but unlike many other films that have relied upon the talents of stalwarts like Shabana Azmi, Om Puri, Anupam Kher, etc, the film chooses UK based actors, who are low on drama, but high on contextual belongingness, and thus bring authenticity to their parts. Although, acting talents differ. The men, including the Papaji and Chachaji, surprisingly, are more important here, both in terms of what role they have to play and how they play it. The relationship of Papaji and Chachaji with the younger boys creates interesting subplots.
The women, well, they are important too, but only those that are chased by the three guys for romantic purposes. Mothers don't have much role to play. They are reduced to stereotypes: paratha serving moms to vigilante moms on a mission to protect daughter's virginity. But then it is a film about male bonding, so guess, men should rightfully take the center stage.
I adored the film because it offered me a less glitzy, more real version of London's desi world than we are used to seeing in Karan Johar's films. There are girls and nightclubs, but not fairy tale versions of them. There are Punjabis, but those who are more practical - not those who lecture on love for India or philosophize on family and friendship.
I adored it also for its main leads, they have acted well; the story, how complications arise, how they are resolved; and the very premise, akin to Amar, Akbar & Anthony but developed with an altogether foreign sensibility, pun intended.
But I must not close before crediting camerawork in certain scenes. Those scenes make you take the film very seriously. I must also thank the writer for dialogues that are plain yet profound. The film is full of one-liners that at once ring a bell and make the characters so relatable.
Amar, Akbar & Tony is cute (not macho), unpretentious, titillating and touching. Delightful and easy watch!
This review is by guest reviewer Jeet. Jeet is a workaholic turned film addict, and vice-versa. Basically, when he is not working, he is watching films. And when he isn't watching films, he is working. The funny thing is films are also a part of his work. Go figure! Jeet also blogs at https://www.facebook.com/groups/736281183136110/.
Parental Guidance:
Violence: Yes, intense, in one scene
Language: Doesn't go out of the way to be profane but it is strong
Nudity & Sexual content: Yes, applies to both male and female characters
Concept: One for all, all for one
General Look and Feel: Low budget indie, but with great camera work in a few scenes
Amar Akbar & Tony - Movie Details
Banner: Sash Media Productions
Producer: Victoria Wood, Atul Malhotra
Director: Atul Malhotra
Lead Cast: Rez Kempton, Sam Vincenti, Martin Delaney, Karen David, Laura Aikman, Goldy Notay
Supporting Cast: Atul Malhotra, Tanveer Ghani, Amrita Acharia, Dev Sagoo, Munir Khairdin, Manrina Rekhi, Kumall Grewall
Cinematography: Jorge Luengas
Editor: Gareth Blower, Alex Morgan
Music Director: Rishi Rich
Costume Designer: Julie Jones
Art Direction: Annalisa Andriani
Facebook Page: Link
Running time: 96 minutes
Reviewer: Jeet
Language: English
Country: UK
Genres: Diaspora, Relationships
Amar Akbar & Tony - Trailer
If you cannot see a video above, click here to see it on YouTube