The Expendables 3 - Review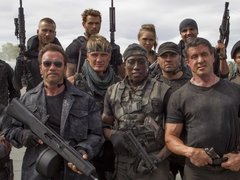 Sylvester Stallone, Jason Statham, Harrison Ford, Arnold Schwarzenegger, Mel Gibson, Wesley Snipes, Dolph Lundgren, Randy Couture, Jason Statham, Jet Li
Dir: Patrick Hughes
quick review
:
A bunch of has-beens kick some serious backside in The Expendables 3, and they make a lot of noise while doing so. You have to be a serious action star fan with a lot of time and really strong eardrums to enjoy this one.
Reviews
5624 views
Click on the tabs below for wogma review, external reviews, user reviews, and twitter verdict
Wogma Review
You'd think that somebody would suggest to the guys writing the cheques that sequels to uninspiring, sagging franchises won't quite cut it in the risky business that filmmaking is. Clearly though, nobody has done that yet.
A whole battalion of former stars, with some former stars as additions, are back to provide loud bangs, done-to-death action sequences and the occasional smile-worthy lines in a film that the world could have done just as easily without. The Expendables 3 is a film which does have at least a couple of moments that make you not dismiss it as a complete waste of time, but only just.
Expectedly, this one too begins with one rather far-fetched action scene, then proceeds to a few more, then finally ends with a long drawn action sequence. The question of what the plot of the film is, then, is moot.
It's cute, honestly, how the film attempts to tackle themes like loyalty and love amongst brothers-in-arms; the awkward relationship that men share, when they can't be openly expressive about their genuine love and respect for each other, but how they will put their life on the line when the time calls for it. Too bad that the cynical times we live in means that for a substantial majority of the audience, these ideas belong in cold storage - quite like the men that make up the cast.
Even though the all-action-star lineup is well past its sell-by date, they do still have that slight lingering air of glittering machismo that once made the likes of Sylvester Stallone, Arnold Schwarzenegger, Wesley Snipes, Jason Statham and Harrison Ford into global superstars. Most of them look awkward on screen now, save for Jason Statham, who is also the only one of the lot who could actually ever act. The most welcome addition to the cast is Mel Gibson, who plays the baddie with unabashed glee; and he also gets the best line in the film.
Stallone, who has also been credited with the story and co-credited with screenplay, gets the meatiest role, though I use that term relatively. It is hard to see why anyone must actually be credited with the story here, because it is so merely functional that a couple of jagged cuts with whole lines of dialogue cut out - presumably the censor board's orders - seem to make no difference at all.
If there is one reason why it is a tad bit easier to be kinder to an Expendables film, than to, say, Kick or Jai Ho, it is the technical wizardry at their disposal. All of the most far-fetched action scenes merge live-action and CG beautifully, making it easier to suspend one's disbelief. Real-looking ludicrousness is, after all, quite easier to buy than tacky-looking ludicrousness.
Hopefully, at least the plight of this film will make the makers see sense and not subject us to a part four. Even if it does, I doubt a review of that film will read any differently than this one.
This review is by guest reviewer Pradeep Menon. Pradeep is a filmmaker and a dreamer. He loves books, rain, winters, tea and his parents. Cinema, however, is the only truth he believes in. He breathes and bleeds film, mostly in hues of saffron, white, green and blue. You can watch his short films at www.youtube.com/cyberpradeep.
Parental Guidance:
Violence: Relentless action but no gore.
Language: Quite clean.
Nudity & Sexual content: None.
Concept: The Expendables face an old enemy.
General Look and Feel: Rugged feel, surprisingly well shot.
The Expendables 3 - Movie Details
Producer: Avi Lerner, Danny Lerner, Kevin King Templeton, Les Weldon, John Thompson
Director: Patrick Hughes
Lead Cast: Sylvester Stallone, Jason Statham, Harrison Ford, Arnold Schwarzenegger, Mel Gibson, Wesley Snipes, Dolph Lundgren, Randy Couture, Jason Statham, Jet Li
Story: Sylvester Stallone
Screenplay: Sylvester Stallone, Creighton Rothenberger, Katrin Benedikt
Cinematography: Peter Menzies Jr
Editor: Sean Albertson, Paul Harb, Tom Brown, Iren Muratova, Ivan Ranghelov, Sonya Savova
Music Director: Brian Tyler
Costume Designer: Lizz Wolf
Facebook Page: Link
Running time: 126 minutes
Reviewer: Pradeep Menon
Language: English
Country: USA
Genres: Action
The Expendables 3 - Trailer
If you cannot see a video above, click here to see it on YouTube